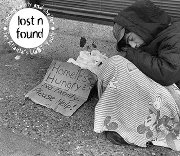 One year ago this November we gathered to discuss the tragedy of queer youth homelessness here in Atlanta. Since that meeting Lost-n-Found Youth has been created to address this emergency. Now a year on we are again calling on our community to gather at the Rush Center to discuss our youth.

The Lost-n-Found board will answer questions and present what the organization has learned about Atlanta's queer youth homelessness, what has been done to address it, and outline what Lost-n-Found has planned for 2013.

Following the meeting a candle light vigil will be held at 9pm outside Brushstrokes in Midtown Atlanta. There Lost-n-Found Youth's Executive Director Rick Westbrook will be living as a homeless youth for 48 hours. With nothing more than his cell phone and ID, he will raise awareness and depend on the kindness of the community to survive.
The Philip Rush Center

Wednesday Nov 7, 2012
7pm-8:30pm